A little bit about me....

I love talking to people. I spent over 25 years working in the media and the thing I loved about it most was the communication with others. It got me thinking that I could do more than just listen and support my friends and colleagues with their lives and worries, I could learn to help people professionally. So, I took the plunge and left my media career and trained as a Cognitive Hypnotherapist at the internationally acclaimed Quest Institute, based at Regents University, London. It was, quite simply, one of the the best choices I have ever made, both professionally and personally.

My approach is friendly, supportive and structured. I offer an ethical and non-judgemental service where I really listen to what my clients are saying. Cognitive Hypnotherapy believes that we all have the resources we need within ourselves - therefore, my job is to help and guide you to achieve the changes you want in your life.

My qualifications:
DipCHyp (Diploma in Cognitive Hypnotherapy)
HPD (National Council for Hypnotherapy Practitioner Diploma)
NLP Prac (Neuro-Linguistic Programming Practitioner)

I am a member of The National Council for Hypnotherapy (NCH).
The NCH is the largest not for profit organisation for the promotion of Hypnotherapy. I fully abide by the NCH Code of Ethics.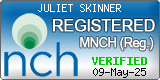 I am a registered member of QCHPA, the professional association for the evidence-based approach of Cognitive Hypnotherapy. Membership is only open to therapists who have completed extensive training and qualified at the Quest Institute. We follow a supportive and structured client-based approach, working with the client as a person, not the label of their problem.


I am fully insured by Holistic Insurance.